At Lanes Outdoor Equipment Inc., we focus on selling and servicing product that will help our customers cut grass efficiently and profitably. Since 1969 we have built an excellent reputation in our area as the "only place to buy power equipment for the Landscape Professional". We have highly skilled personnel that will do everything possible to make you a lifelong customer. If you have any questions please feel free to contact us, we're always glad to help!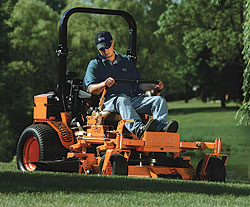 Lanes Outdoor Equipment Inc. is proud to be an authorized dealer of Scag Power Equipment. We also carry a complete line of other equipment such as Husqvarna, Echo, Grasshopper, Exmark and more.

Please call us at (850)638-4364/7980 to arrange for a demo or stop by our store to see our top quality line of equipment, guaranteed to make your job easier.
SPRING IS JUST AROUND THE CORNER, TIME TO GET STARTED!!
LOTS OF NEW THINGS TO SEE FROM OUR BROAD RANGE OF EQUIPMENT MANUFACTURES, NEW MODELS, NEW ENGINES, NEW PRODUCTS!!!
ALL NEW SCAG SVRII V RIDES, NEW 37HP EFI TURF TIGERS
NEW DIESEL OPTIONS ON GRASSHOPPER MOWERS AND AN ALL NEW FRONT MOUNT MOWER AIMED AT THE HOMEOWNER MARKET
NEW ENGINES BOTH GAS AND DIESEL ON EXMARK LAZER Z
ECHO HAS EXPANDED THE 2620 ENGINE TO MORE MACHINES
LOTS OF NEW SPRING PROMOTIONS FROM HUSQVARNA KICKING IN THE MIDDLE OF MARCH ($100-$150 REBATES ON MOST ALL TRACTORS)
OPEN HOUSE AND COMMERCIAL SHOW DAY
FRIDAY MARCH 2 , 2018
If you have any questions please feel free to contact us or visit our store. We're always glad to help!